IND360 – One single weighing terminal – multi-Application
01/11/2022
To many System integrators, the weighing terminal is merely a means of transmitting weighing data.
For instance, animal feed plants, chemical factories and other industrial settings often use weighing terminals to send data from each hopper , mixing tank, and reaction tank to a SCADA screen for monitoring and control.
Such centralized control systems can make adjusting the spill for each tank difficult, resulting in measurement errors. Additionally, users may experience some issues with the installation, calibration, and maintenance of each component.
The IND360 weighing terminal, which has an integrated spill self learning algorithm, has I/O ports that are similar to control devices and are capable of decentralized control (Standalone), which lessens the workload associated with programming and makes operation and modification easier.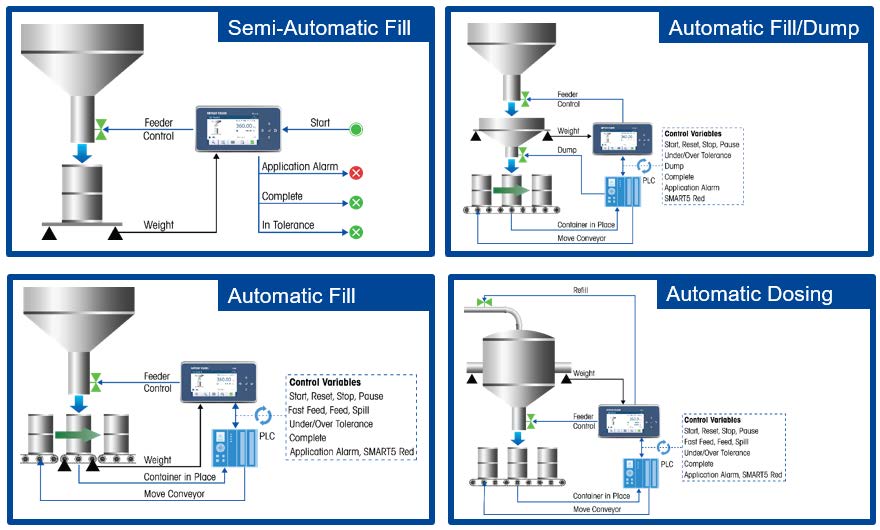 The IND360 will directly control the opening and closing of valves as well as other peripheral devices for this method. The PLC will only be responsible for sending the command to start the process and receiving the weighing value. This method enhances accuracy in filling while simplifying operation and maintenance.
In addition to filling applications, the IND360 weighing terminal also supports a wide range of other applications, such as tank operation (tank or vessel), dynamic weighing, and rate control. IND360 supports connecting to most of common standard automation interfaces , including Profibus/Profinet, EthernetIP, CC-Link IE, EtherCAT.
Find out more about the IND360 weighing terminal here Link or contact us at:
Company: Mettler Toledo Viet Nam
Address: G Floor, SCS Building, Plot T2-4, D1 Street, Hi-tech Park, Tan Phu Ward, Thu Duc City, Ho Chi Minh City
Booth: A5-A6
Hotline: 028 7309 0789
Website: www.mt.com