Industry News
New cement packaging for Vietnam
The rapid growth and increasing production of cement in Viet Nam raises questions of how to increase efficiency and minimise hazards to workers and the environment, said Swedish Ambassador to Viet Nam Pereric Hogberg at a Ha Noi workshop on Thursday.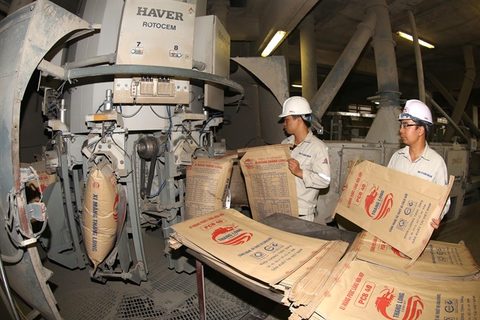 Cement packaging at Thang Long Cement JSC.
The event, organised by the Embassy of Sweden in collaboration with the Viet Nam Ministry of Construction, was designed to discuss how the cement industry can enhance its packaging capabilities by adopting international technologies and solutions.

The current usage of KPK sacks in Viet Nam is estimated to cause economic losses due to leakage during the packaging and transportation process. This leakage means that cement producers regularly have to pack extra cement in every 50kg bag to ensure the correct amount reaches the final consumers. This leakage is also a threat to cement factory workers, construction site workers and the environment.

At the workshop, the leading Swedish packaging company, BillerudKorsnäs, and Viet Nam's largest private cement company, Vissai, signed a Letter of Intent concerning QuickFill Clean (QFC) cement paper sacks, positioning Vissai as a pioneer in adopting the eco-friendly packaging product for Viet Nam's cement sector.

"Vissai has studied and tested many types of cement sacks produced in many different countries for both the domestic and export market. However, BillerudKorsnäs' product is by far the most competitive in terms of technology as well as cost," said Vissai's deputy general director Nguyen Tien Dat.

Mikael Strömbäck, business segment director of sack solutions at BillerudKorsnäs said: "This agreement marks an important milestone in our journey to bring sustainable packaging solutions to the Vietnamese market. We look forward to a long and fruitful cooperation".

With the emergence of new high-porous paper cement bags currently widely used in the world, cement leakage can be virtually eliminated, minimising economic losses, worker and environmental hazards. However, these new solutions also require changes in the handling of sacks throughout the supply chain.

The event also drew representatives from the Viet Nam National Cement Association, Viet Nam Federation of Civil Engineering Associations and other concerned ministries.
SOURCE: VNS
MAY 2017